If you want help fixing your device or want me to do it please contact me.
Wismec Reuleaux RX200S Blank Screen Fix
A reader sent his RX200S, after reading the rx2/3 fix, hoping I could fix a blank screen issue.
Hooked up to PC where the firmware tool successfully detected the device. Went ahead and updated the firmware to V4.13. This let me know there wasn't a processor issue.
I disassembled and checked connections. The ribbon cable seemed loose.
RX
Used a heat gun to reflow the ribbon solderings. Got info on the display but it was very dim. The issue still persisted but the ribbon cable definitely needed this because it was separating from the solder.
After poking around at the surface mounted resistors near the ribbon traces I found that bridging two of the resistors the screen came to life. My untested assumption is that one of the resistors went bad and bridging them brought the screen back to life.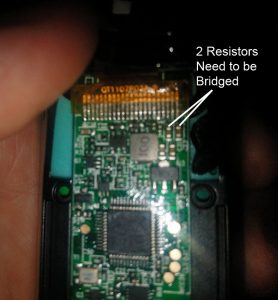 Reassembled and tested again. The resistance of the coil reads the same on 2 devices and the wattage to run the coil is equal between the 2 devices. Good to go.
Try this at you're own risk and understand I'm not responsible for anything that goes wrong.